Lasco and Peoples State Bank Engage With Munising Community for Security Training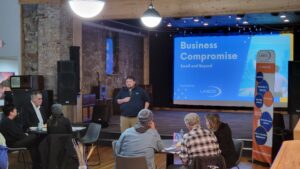 Lasco and Peoples State Bank hosted a Lunch & Learn event on Wednesday, Oct. 8, at Gallery Coffee Company in Munising, Mich.
Cyber Education for Community Businesses
The Lunch and Learn was a live, in-person event, engaging business leaders from the Munising community in education regarding business compromise and building a security culture. More than 30 attendees showed up to hear Andrew Gale, VP of Technology Services at Lasco, talk about threats that are out there, why it's important to be aware of these threats, and what can be done to prevent business compromise.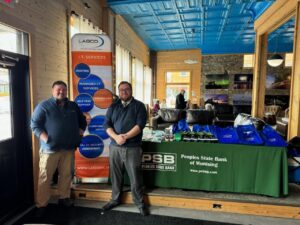 Putting You Ahead of Cyber Threats
Lasco knows the cyber-landscape. We monitor current threats and analyze trends to see what's coming on the horizon. Our dedication to the community and engaging in publicly accessible cyber training has been a focus in 2023.
The face-to-face lunch and learn is the best way to encourage discussion and to find out what questions business leaders have as well as learning where vulnerabilities may lie. 
The cyber world is always moving, always changing, and it can be difficult to stay ahead of cyber threats. Lasco can provide the resources you need to stay ahead of those threats. If you are unable to attend any of our public Lunch and Learn events, we also host annual Cybersecurity Symposium conferences and quarterly Virtual Cyber Roundtables. We can also offer customized training and other services to help keep your institution secure. Request a consult above or read more on our website at Cybersecurity & Compliance.